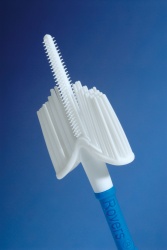 NEW!
Rovers® Cervex-Brush® Combi
ROVERS® CERVEX-BRUSH® Combi, #36827G
For Pap Smear Specimen Collection
510K approved
Combines the best features of the Cervex-Brush® and EndoCervex-Brush®-S
One Device for Sample Collection in All Patients
Requires 2 Full Turns in Clockwise Direction
Rovers Medical Devices has engineered a new Pap smear collection device which combines the important features of the original Cervex-Brush® with the benefits of the EndoCervex-Brush®. The convenient Cervex-Brush® Combi provides doctors and nurses the option of a simultaneous Pap smear collection with a single device insertion. The Cervex-Brush® Combi will collect both ectocervical and endocervical cells from patients.
The Cervex-Brush® Combi a new patented, high tech product capable of delivering higher cellular yield of endocervical cells than the traditional Cervex-Brush®. Laboratory tests have also indicated presence of oncogenic HPV type cells which will encourage other applications for the Cervex-Brush® Combi.
The Cervex-Brush® Combi was developed for two main reasons. For current users of the Cervex-Brush® a perfect smear can be made in the majority of the cases and if the instructions for use are followed properly. In a small percentage of cases (stenotic os or narrow entry of the endocervical canal) sometimes a more rigid endocervical sample is needed (see EndoCervex-Brush®).
In addition, there are a small number of practitioners that have trouble with the right application of the Cervex-Brush® (insert central hairs into the endocervical canal and make 5 full turns in a clockwise direction). Sometimes they use the Cervex-Brush® in the same way they used the spatula resulting in unsatisfactory smears due to a lack of endocervical cells. With proper use of the Cervex-Brush® Combi, practitioners will only have to rotate the brush two full turns. The device only differs from the Cervex-Brush® in that the 9 longer middle hairs have been replaced by a complete endocervical sampler. This makes the device the ideal Pap smear collection instrument since it is now possible to smear almost 100% of the patients while simultaneously the middle part of the device is collecting endocervical material. Initial studies with the Cervex-Brush® Combi resulted in favorable collection efficiencies with a statistically significant higher yield of endocervical cells.
Contra-indications: The Rovers® Cervex-Brush® Combi should not be used during pregnancy.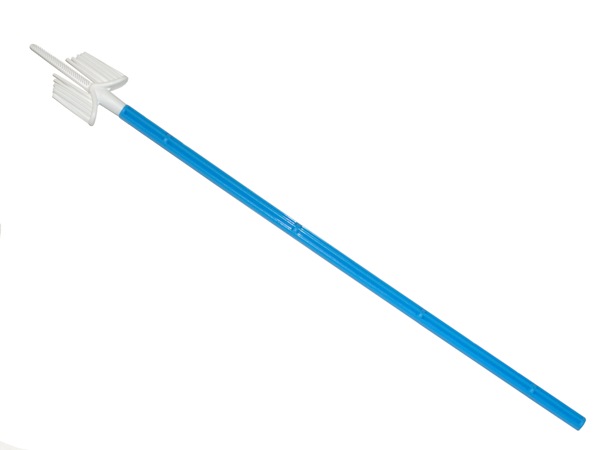 | Part No. | VWR No. | Description | Packaging |
| --- | --- | --- | --- |
| 36827G | 89171-022 | Rovers® Cervex-Brush® Combi, 25/pack | 25/case |
This website is operated by Therapak LLC,
Owned by Rovers Medical Devices B.V., The Netherlands
Rovers® Cervex-Brush® Combi is a patented product. Registered design. Rovers® and Cervex-Brush® are registered trademarks of Rovers Medical Devices B.V. Oss, The Netherlands.